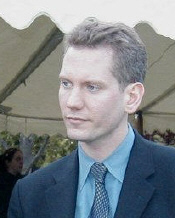 SCOTT JEFFREY

Scott Jeffrey is a 36-year-old software developer and native New Yorker. He grew up in Park Slope, Brooklyn and attended Midwood High School, a "magnet" public school in the Flatbush section of Brooklyn. He graduated from Princeton University, class of 1989, with a Bachelor's Degree in Astrophysics, and moved to the Upper West Side of Manhattan.

Jeffrey never forgot his roots and never sold out to corporate America. He refuses to drug test, sacrificing many career goals to free his voice to speak the truth.

In 1996, Jeffrey founded Legalize, a 5000-member website empowering ordinary Americans to speak out to legalize marijuana.

In 2000, Jeffrey ran for office for the first time, challenging liberal icon Charles Rangel for United States Congress. He collected 3500 signatures to put himself on the ballot and received 480 votes.

In 2001, Jeffrey ran for Manhattan Borough President receiving 3052 votes — more than any Libertarian candidate had received in Manhattan in over 20 years. He also led a 13,000-signature petition drive to put nine Libertarian runningmates on the ballot on the ballot. Nearly all were in their 20's and 30's, and collectively they received over 20,000 votes.

In 2002, Jeffrey took the fight for liberty across the Empire State by running for New York Governor (www.VoteJeffrey.com). Once again he led the petition drive, submitting 19,000 signatures to put himself and six other Libertarian candidates on the ballot. He participated in two televised debates with Governor George Pataki and Democratic candidate Carl McCall, and received 5013 votes on Election Day.

In 2003, Jeffrey began lobbying for the New York Duane-Gottfried "Right to Marry" Bill. He organized the first lobby effort for the bill, connecting local constituents with elected officials representing Albany, the Bronx, Brooklyn, Manhattan, New Paltz, Queens and Rochester. He also collected 7000 signatures in support of the bill.

Last year Legalize was relaunched to incorporate his broader pro-liberty agenda. By bringing together online activism with street petitioning, Legalize provides communities across New York an effective vehicle to connect with their elected representatives. Jeffrey also continued his petitioning efforts, collecting another 5000 signatures in support of the "Right to Marry" Bill.

This year Legalize is focusing its activist energy on defeating Mayor Bloomberg in his bid for re-election. Please join our team of 7000 citizen activists by registering your e-mail address so we can keep you informed of our activities and successes. Or simply bookmark Legalize and stop back to see what is new.

Comments? Compliments? Criticism? E-mail me at scott@legalize.com.
Legalize®, Legalize Bandstm, and Legalize Patriots® are trademarks of Scott Jeffrey.
Copyright © 1996-2005 Scott Jeffrey. All rights reserved.