Only $1 Each
Plus $1 S&H (charge covers 24 buttons)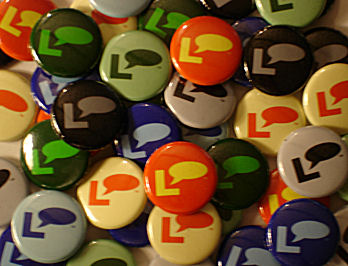 Help Spread the Word: Legalize

Wear your Legalize button with pride to break taboos. Our trademark "L with Speak Bubble" emblazoned in eye-catching colors represents your own voice speaking out to legalize. Let your fellow citizens know that same-sex marriage and marijuana legalization are moderate, mainstream issues supported by patriotic Americans from all walks of life.

Legalize pins symbolize our generation's evolution beyond 60's weedleafs and 70's pink triangles. Advertise inclusive politics, not exclusive identity.

Most importantly, they are cool buttons that attract attention and open conversation whether at the office, in class, on the street, or at a party. They are 1" diameter, the standard small button size that is unobtrusive and styling. Choose your favorite color or buy one of each for the complete set.

Comments? Compliments? Criticism? E-mail me at scott@legalize.com.
Legalize®, Legalize Bandstm, and Legalize Patriots® are trademarks of Scott Jeffrey.
Copyright © 1996-2005 Scott Jeffrey. All rights reserved.